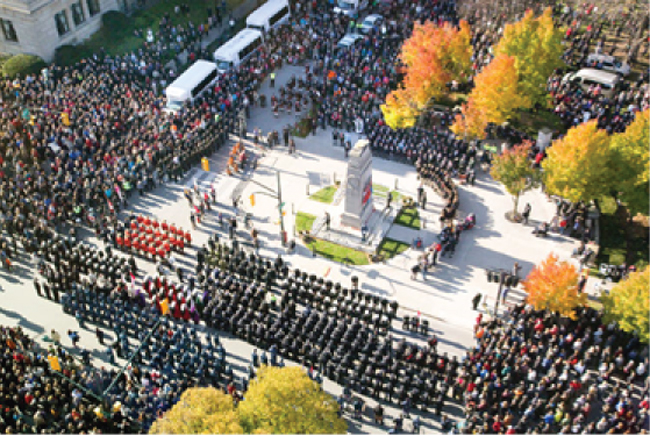 Remembrance Day Ceremony
Thursday, Nov 11 2021
Cenotaph, Victoria Park, London Ontario
The 2021 London Remembrance Day Ceremony will be conducted at the London Cenotaph in Victoria Park on November 11, 2021 while working within the restrictions imposed by the current pandemic. Participation is by invitation only and spectators are discouraged from attending due to local restriction and the requirement to physically distance.
The importance of a live ceremony honouring our Veterans and their sacrifices is considered paramount, especially during the 100th anniversary Poppy as Canada's symbol of Remembrance. As so many other commemorations have either been cancelled or delayed by the current pandemic, the symbology of paying homage to past sacrifices and before the eyes of those that served is more important now than ever.
The conduct of the London Remembrance Day Ceremony will follow the standard format, but will be modified to conform to the local restrictions as follows:
Participation at the London Cenotaph is by invitation only. Spectators are discouraged from attending due to local restriction and the requirement to physically distance.
There will be no marching parade this year. Participants shall assemble at the Cenotaph and dismiss from the Cenotaph following the service.
The traditional four armed sentries at the London Cenotaph shall be posted by Canadian Armed Forces and Royal Canadian Mounted Police.
A total of eight Official wreaths shall be laid during the ceremony.
The public is invited to lay a wreath at the Cenotaph between noon and 8:00 p.m., Wednesday, November 10; between 8:00 and 10:00 a.m. on Thursday, November 11; or after 1:00 p.m. following the Remembrance Day Ceremony.
Media are welcome to attend but requested to coordinate with the Committee. The ceremony will broadcast/streamed via Rogers TV and CTV London.
---
How can I show my support if I cannot attend this event?
There are a few different ways you can show your support during this year's Remembrance Day:
Watch London's Remembrance Day Ceremony streamed by Rogers TV and CTV London.
At 11:00 a.m. on November 11, stand outside your residence or business to publicly observe two minutes of silence.
Wear a Poppy. Thank a Veteran.
---
Contributing factors in determining this year's Remembrance Day Ceremony
The planning of the National Remembrance Ceremony has taken into consideration the following restrictions imposed by the Regional and Provincial health authorities as a result of the current pandemic:
The Government and local health authorities direction on the limit on outside gatherings. Locally, the maximum number for an outdoors gathering is one hundred (100).
The requirement to physically distance between individuals to a minimum of six feet or two meters.
The requirement to wear protective masks at outdoor events.
Many of our Veterans are in the demographic most at-risk in the current pandemic.
---
Remembrance Day Appointments
Albeit there is no parade this year, all appointments are maintained. 2020 appointments include:
Reviewing Officer – BGen Mark Campbell, CD
Parade Commander - LCol (retd) Rick Phillips, CD
Deputy Parade Commander - LCdr (retd) Mark Van Den Bossche, CD
Parade Sergeant Major - WO (retd) Derrick McClinchey, CD
Master of Ceremony - Mr. Jim Swan
Chaplain – Colonel (retd) the Rt Rev Nigel Shaw, CD
Bag Piper – Pipe Major Scott Shaw
Bugler - Mr. David Cunningham
Official wreaths to be laid at the Remembrance Ceremony:
Silver Cross - Ms. Carolyn Wilson
Govt of Canada - MP Peter Fragiskatos
Province of Ontario - MPP Terence Kernaghan
City of London - Mayor Ed Holder
Canadian Armed Forces – BGen Mark Campbell, CD
Royal Canadian Mounted Police - A/ Comm Jodie Boudreau
Royal Canadian Legion - Mr. Brian W. Harris
Imperial Order of the Daughters of the Empire - Ms. Liz Milne
---
London Remembrance Day Committee
London area Veteran associations and interested community groups are invited to participate as members of London Remembrance Day Committee. A steering committee includes executive of the Remembrance Day Committee, key Parade appointees and representatives of the Canadian Forces, Royal Canadian Mounted Police, Royal Canadian Legion and the City of London.
Chairperson - Sgt (retd) Randy Warden
Secretary - Ms. Beth Sayler
Treasurer – LCdr (retd) Mark Van Den Bossche, CD
Public Relations – Maj (retd) Bruce Stock, CD
Director - Capt Jerry Juraszko, MMM, CD
Ex Officio - Parade Appointments
Liaison Officer (Canadian Forces) - CWO Mark Delarosbil, MMM, CD
Liaison Officer (RCMP) – Cpl Kelly McMullen
Liaison Officer (Legion) - LCol (retd) Brian N. Harris, CD
Liaison Officer (City of London) - Ms. Robin Armistead
---
Elsewhere in London
London area branches (Zone A6) of the Royal Canadian Legion, Churches and other places of worship, and other Veteran or community groups may also hold services. Given the pandemic restriction for the number of participants, these events may also be by invitation only. Please contact them directly for more information. At 10:55 a.m., Remembrance Day, Pipers of London Police Pipes and Drums shall be positioned at key Veteran cemeteries throughout the City. The Pipers shall play in unison prior to observing two minutes of silence at 11:00 a.m.
---
A Day of Remembrance
Every year on November 11, Canadians pause in a silent moment of remembrance for the men and women who have served, and continue to serve our country during times of war, conflict and peace. We honour those who fought for Canada in the South African War (1899-1902), First World War (1914-1918), the Second World War (1939-1945), and the Korean War (1950-1953), as well as those who have served since then. More than 1,500,000 Canadians have served our country in this way, and more than 118,000 have died. They gave their lives and their futures so that we may live in peace.
One day every year, we pay special homage to those who died in service to their country. We remember these brave men and women for their courage and their devotion to ideals. We wear poppies, attend ceremonies, and visit memorials. For one brief moment of our life, we remember why we must work for peace every day of the year.
This Remembrance Day, Londoners will gather at their Cenotaph. Click here to learn more the London Cenotaph.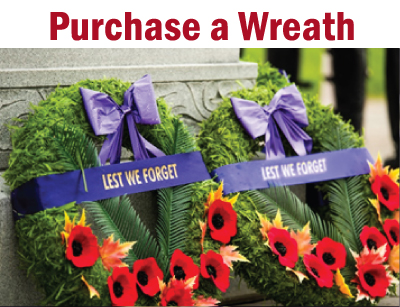 The Royal Canadian Legion makes wreaths available for purchase through Legion Branches for anyone wishing to place a wreath at a local commemorative event. Please contact your local Legion Branch directly to place an order. During the busy Remembrance period, we recommend you place your wreath order in early October.
---
Our members and volunteers focus on making the maximum positive effort for our military community and veterans. We honour those who sacrificed, providing essential services within our community.