Special Presentation to Mayor Ed Holder
"One the 100th anniversary of the Poppy as Canada's symbol of remembrance, DeAndre Holder (7), a grade 3 student at St. Rose of Lima Catholic Elementary School, presented London Mayor Ed Holder with the Legion's Poppy100 pin. In return, the Mayor presented DeAndre with a City of London pin. The two spent some time together and talked about the importance of the Poppy and of Remembrance."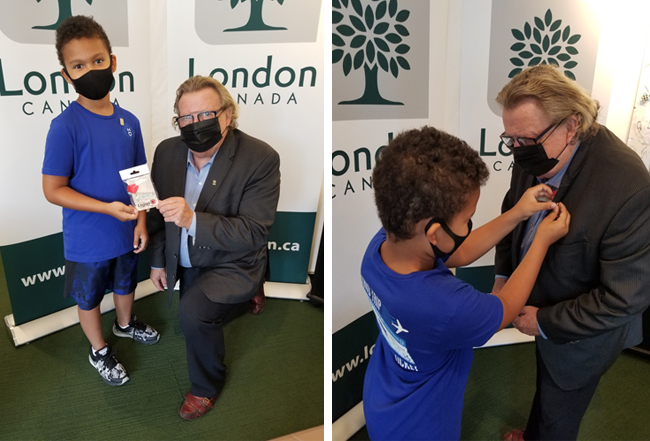 ---
Lambeth Lions Poppy Program
As you may be aware 2021 is the 100th anniversary of the Remembrance Poppy in Canada. Inspired by John McCrae's "In Flanders Fields" the Poppy was adopted as the flower of remembrance and as a way to raise money for Veterans' needs.
The Lions Club of Lambeth hopes to raise $50,000 for the Royal Canadian Legion Poppy Trust Fund. The GCC executive would like members to consider supporting this noble initiative. Details about the program are available at the link below.
https://www.lambethlions.com/poppy-program.html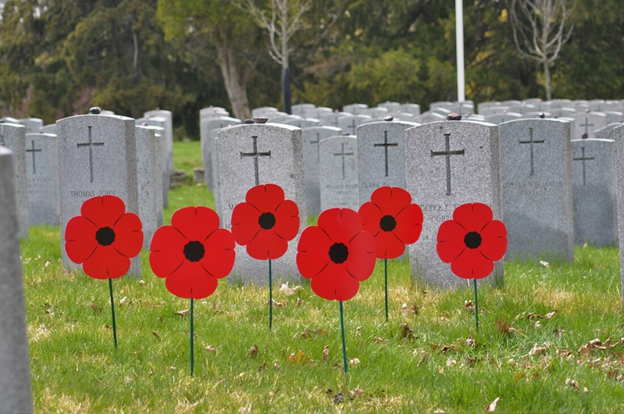 ---

---
MEDIA RELEASE 26 MARCH 2021
Royal Canadian Legion, Ontario Command, Zone A6
Media Announcement, 2PM, 26 March 2021
(Held at Veterans Gardens, Victoria Park, London ON)
Good afternoon everyone,
Thank you for attending today's important announcement. I am joined by Mayor Ed Holder and Zone A6 Poppy Chairperson, Mr. Ross Seip. My name is Randy Warden.
With 250,000 members, The Royal Canadian Legion is Canada's largest Veteran support and community service organization. Zone A6 includes all four branches of the Legion within the City of London and Dorchester's Donnybrook Branch. Locally, the Legion is home for 1,700 members, approximately one third are serving members of the RCMP or Canadian Forces, or Military Veterans.
The Royal Canadian Legion cares for all those who have served our nation. As members, we show our thanks by supporting and advocating for Veterans, by remembering their sacrifices, and by continuing the tradition of service in helping our communities.
The Poppy was introduced to Canada and the Commonwealth by Lieutenant-Colonel John McCrae of Guelph, Ontario, a Canadian Medical Officer during the First World War. John McCrae penned the Poem "In Flanders Fields" on a scrap of paper in May, 1915 on the day following the death of a fellow soldier. Little did he know then that those 13 lines would become enshrined in the hearts and minds of all who would wear them.
From the last Friday in October to Remembrance Day, millions of Canadians wear a Poppy as a visual pledge to never forget those who sacrificed for our freedom.
The Poppy Campaign is very much a local initiative, conducted by Legion Branches in cities, towns and communities across the country. Donations collected during the Poppy Campaign are held in Trust at the branch level to directly support Veterans and their families within their community and to help ensure Canadians 'never forget'.
In 2019, local branches raised $220,000.00 in Poppy donations, with this in mind, and with fundraising challenges realized due to the Covid pandemic, our hope was to match donations of the previous year.
Albeit the Legion has fallen short of our objective, I am pleased to report the Donnybrook, Vimy, Lambeth, Byron Springbank and Victory branches have cumulatively raised $195,000.00 in Poppy donations. This represents 88% of our fundraising target.
The Legion is appreciative for the generosity of Londoners and for the volunteer support of numerous local Community and Veteran organizations throughout our campaign. Thank you.
These donations directly address emergency needs for Veterans and their dependents, medical equipment and research for local hospitals including the Parkwood Institute, drop-in centres, meals-on-wheels and transportation services for Veterans, refurbishing of housing accommodation and care facilities for Veterans in destitute circumstances, and programs in support of wounded warriors and homeless Veterans.
The need remains and for continued financial support. Donations to the Poppy Fund are welcome anytime throughout the year. To make a donation in support of the Poppy Fund, please contact your local branch of the Legion.
Contact information for each of our local Legions can be found at www.SupportVeterans.ca
Thank you for your continued support.
Lest we forget.